About www.knuckleschaotix.net and the host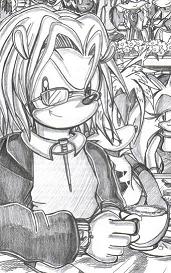 My name is Magnus, and I opened this page officially on August 16th, 2004. I have always been a great fan of the Chaotix, and as I searched around on the Internet for information, fan-art etc related to the Knuckles Chaotix, I actually found it pretty difficult to find material related to the Chaotix, and as the domain www.knuckleschaotix.net was available, I decided to set up this page as information page for the Chaotix, where any visitor could have easy access to Chaotix material such as screenshots, codes, comics, fan art etc. Another purpose with this page is, needless to say, to spread general information about the Knuckles Chaotix to give them more space in the Sonic fandom. As for me, I have been a loyal fan of Sonic the hedgehog ever since he was born.









Interests: Videogames, music, read comics, helping people
Spoken Languages: Swedish, English, a bit of German and 300 words of Japanese
Last beaten (home) videogame: Time Crisis 4 (Playstation 3)
Last beaten (arcade) videogame (1 coin): Bad Dudes Vs DragonNinja (Data East 1988)
Last seen movie: Kung Fu Panda III
Last read book: "If Life is a Game, These are the Rules" (ChÚrier Carter-Scott)
Favourite Food: Sushi
Favourite Drink: Zingo, Pear Cider & SakÚ
Favourite fruits: Grapes and bananas
Favourite vegetable: Broccoli
Favourite Sport: Bowling (Average score 151, record 200)
Favourite Quote: "As there can't be enough happiness in this world, my job is never done."
Favourite Philosophers: Decartes, Diogenes & Jean-Paul Sartre
Favourite Comic (long): Sonic The Comic (Fleetway), specially those with the Chaotix
Favourite Comic (short strips): Snake Tales
Favourite TV Cartoon: Road Runner (Beep beep!)
Favourite Comedian: Benny Hill
Favourite Drawing Artist: Richard Elson
Favourite Music Genre: Synthesizer from the 80's and Eurovision schlager music
Favourite Musical Artist: Jimmy Nail & Lasse Holm
Favourite Musical Piece: "Brusa H÷gre Lilla ┼" - "Breeze Louder Little River" by Bj÷rn J:son Lindh
Favourite Home-system Videogame: "Knuckles Chaotix" (Sega 32X) and "Formula One - Beyond the Limit" (Sega CD)
Favourite Arcade Videogame: "SegaSonic the Hedgehog" and "Super Chase - Criminal Termination"
Favourite PC game: Police Quest 1-3 (Sierra)



Legal Terms
This is a completely public homepage, which means that anyone is allowed to download everything on this homepage for completely free without any fee. All information and data may also be copied to other people, but must not be uploaded elsewhere online without my permission (exceptions from this rule are the scanned articles, the original mp3s and the screenshots from the games). All ROMS must be deleted from your hard drive within 24 hours of use, as long as you don't have the game by yourself.
Linking to my page is perfectly fine, but linking to direct files is not allowed!! I don't want to get in trouble with my domain provider beacuse of too heavy traffic. This page is free of advertisment and pop-up windows after all, so please respect this.

If you enjoy the content of www.knuckleschaotix.net, *please* visit any of these pages below...



These pages are charity pages with various purposes, as the names are suggessting. By simply visiting any of these pages and clicking on the main link on these homepages (clearly visible), you will make a donation for the specific purpose on the page, but you don't pay a single penny!! All pages are sponsored by various companies that pay to the charity for each click on the page. You don't pay anything - all you have to lose is about 15 seconds of your life by visiting and clicking. No obligations, no fees, no passwords, no registrations, nothing. The only thing I request, if you enjoy the content of this homepage, is that you visit these pages at least once (you could make a donation for each page each day, so feel free to do it more than once) to make this world a bit brighter.

I want to clearify that I do *NOT* earn anything if you would click on any of these pages. I have set up these links of the only reason that I want to turn this world to the better. I did this completely volounteered, and had no obligation to do so as I set up the page. The pages above do not even know that I have linked them from my page.

The fact that 25.000 children die EACH DAY of starvation and diseases related to starvation alone, is proof enough that there can't be enough happinness in this world. So please, give Earth a chance...





Questions? Comments? E-mail me!