Chaotix Comics
The most well-known comic featuring the Chaotix would probably be the Archie comic, as the comic currently is for sale, and is very much spread all over the world. But there is actually another comic, which is less known, and which hasn't quite gotten the credit it deserved, namely the Fleetway comic, which is no longer for sale. IMHO, the Fleetway comic was superior to the Archie Comic is all aspects, the artwork was several times better, very much thanks to Richard Elson, the main artist of the Fleetway Comic, but also thanks to all the other great artists, Nigel Dobbyn, Roberto Corona, Dave Windett, Carl Flint, Andy Pritchett, Josť Casanovas, Mike White, Mike Hadley, Ferran Rodriguez and everybody else. The stories were better (specially thanks to Nigel Kitching who was the main story-writer of the Fleetway. He made more than 1.000 pages together with Richard Elson, pictures to the left). And finally, the characters had indeed a lot more character than in Archie, IMHO.


Please read!!
All mentioned artists above, with exception for Mike White, Mike Hadley, Ferran Rodriguez and Jose Casanovas have given me permission to upload their comics on this page (*THANK YOU!!*), and if you want to learn more about the artists, check the Links section. Regarding the other artists, I have been searching for them all high and low, on countless of pages, asked plenty of people, but I just haven't been able to find them anywhere. Even so, I decided to upload their works, as no other StC artist objected as far. If anyone would instruct me to remove their scans, I will do so without any delay, but I hope nobody would mind. I really tried to find them, Nigel Kitching could verify that I tried. Lew Stringer told me in an e-mail that he had heard rumors that Josť Casanovas actually passed away, but he wasn't sure wether this was true or not. I hope not. :(

All scans are made completely by myself, so that nobody could claim that I would have taken his/her scans. All scans could be downloaded for completely free, but since I put down quite some work on scanning all pages, I would appreciate if the scans won't be uploaded to any other homepage without my permission. On this very page are comics related to the Chaotix only. If you want to read the other Fleetway comics with Sonic and the others, check the Other Sonic Comics section for more scans. I have tried to set all filenames in cronologic order of print in the comic, but I may have done a mistake or two.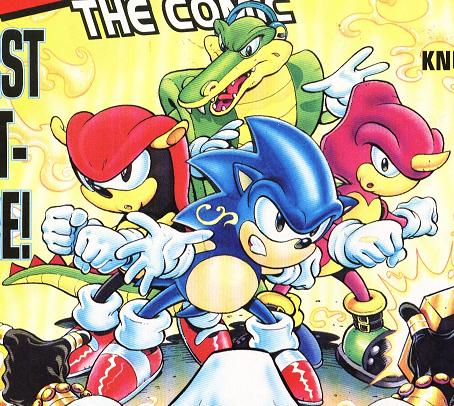 Although I strongly prefer the Fleetway comic, I would have liked to upload a couple of the Chaotix comics from Archie, but unfortunately, I have not gotten permission to do so. Therefore, I have only scanned a few sample pages, available on the bottom of this page. But as soon as the Archie comic drops (in 15-20 years or so, I don't expect it to happen any sooner), I will host the archie universe online also...faaaar ahead in the future.

The Last update in this section was made on February 10th 2006: archieprint1.zip and archieprint2.zip



Chaotix covers

cover.zip
7 Knuckles Chaotix covers
images: cover1-cover7
1,1 mb



Knuckles the Echdina

knuck01.zip
Jake's Story, Reflections
images: knuck001-knuck012
2,0 mb

knuck02.zip
The Homecoming 1-4
images: knuck013-knuck032
3,3 mb

knuck03.zip
The Graveyard 1-4 & New Master Emerald
images: knuck033-knuck057
4,0 mb

knuck04.zip
Ghost Ship 1-6
images: knuck058-knuck087
5,0 mb

knuck05.zip
Troubled Waters 1-2 & Village of the Damned 1-3
images: knuck088-knuck112
4,0 mb

knuck06.zip
The Good, the Bad and the Echidna 1-4
images: knuck113-knuck132
2,8 mb

knuck07.zip
Roots 1-3
images: knuck133-knuck147
2,2 mb

knuck08.zip
Victims 1-3 & Loose Ends
images: knuck148-knuck167
2,8 mb

knuck09.zip
The Takeover 1-4
images: knuck168-knuck187
2,9 mb

knuck10.zip - NEW!! Feb 16th
Knuckles - New Year Twister
images: knuck188-knuck192
0,8 mb



The Chaotix

tix01.zip
Total Chaotix 1 - 6
images: tix000a-tix005
5,4 mb

tix02.zip
The Brotherhood of Metallix 1 - 4
images: tix005aa-tix005bn
5,1 mb

tix03.zip
Return of the Chaotix 1 - 6
images: tix006-tix040
7,9 mb

tix04.zip
The Fundamental Four 1 - 2 & A Christmas Wish & Eve of Destruction
images: tix040m-tix047g
4,2 mb

tix05.zip
The Hive 1 - 2
images: tix048-tix054ag
2,5 mb

tix06.zip
Heroes and Villians 1 - 3
images: tix054ah-tix054bc
3,9 mb

tix06b.zip
Traitor of the Lost Pyramid
images: tix040a-tix040l
2,0 mb

tix06c.zip
The Ultimate Nightmare
images: tix055-tix061
1,1 mb

tix07.zip
The Tomb 1 - 2
images: tix062-tix075
2,4 mb

tix08.zip
Doomsday 1 - 3
images: tix076-tix096
5,0 mb

tix09.zip
The Final Victory
images: tix097-tix118
3,8 mb

tix10.zip
Back in the Special Zone & Roots 1 - 4
images: tix119-tix151
6,2 mb

tix10b.zip
On the Run 1 - 4
images: tix151a-tix151t
3,0 mb

tix11.zip
Crimson Cobra Strikes 1 - 4
images: tix152-tix166
2,4 mb

tails06.zip
Tails and Charmy Bee - The Forbidden Island
images: tails049-tails053
0,9 mb




Archie Samples
archieprint1.zip
This file contain the 8 pages of the second Knuckles Chaotix story, from the 48 page special issue. The scans are the original sheets of the comic, and I have bought them from Ken Penders myself - therefore I have the rights to upload them to my page (I have checked that).

archieprint2.zip
This file contain the 8 pages from various Chaotix stories (Sonic #118 - page 26, Sonic #120 - page 16 and 20, Sonic #122 - pages 24-28 and Sonic #123, page 19. Again, I own these original sheets and am entitled to host scans of them online.

Cover to Knuckles Chaotix 48 page issue (by Spaz & Harvo)
Scan from last page of Knuckles Chaotix 48 page issue (by Art Mawhinney)
Scan from Knuckles Chaotix 48 page issue (by Chris Allan)
Scan from Knuckles #27 (by Manny Galan)
Scan from Knuckles Chaotix 48 page issue (by Ken Penders)
Scan from Sonic #138 (by Jon Gray)
Scan from Sonic #127 (by Dawn Best)
Scan from Knuckles #30 (by Colleen Doran)
Scan from Knuckles #29 (by Frank Strom & Jim Amash)
Scan from Knuckles #23 (by Jim Valentino)
Scan from Knuckles #22 (by Harvey Mercadoocasio)
Scan from Knuckles #30 & 31 (by Dave Manak)



Questions? Comments? E-mail me!